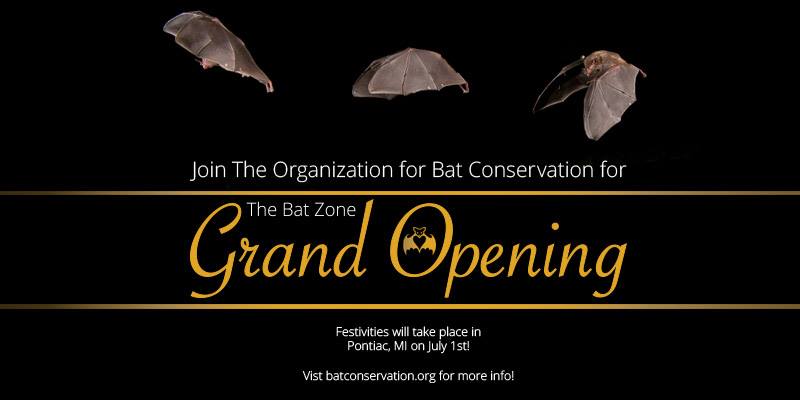 After 15 wonderful years here at the Cranbrook Institute for Science (CIS), the Organization for Bat Conservation is preparing to expand to a larger headquarters in Pontiac! CIS has been an invaluable partner and ally over the years, and has been tremendously supportive of our mission to save bats and educate young audiences across the nation. Now, on the year of OBC's 20th Anniversary, we're ready to make the leap to a new space, with lots more room for our animals and our mission!
You may be asking "why is OBC is moving?" Growth isn't the only reason why we're moving: Organization for Bat Conservation is pleased to announce that we will be seeking to implement a new Urban Bat Project, which will work to connect urban populations, bats, and conservation in unique and creative ways. Pontiac provides the perfect base to accomplish our goals.
With all of that said, we are happy to announce the details of the grand opening of the Bat Zone at our new location! Our doors will open for the first time from 10am to 5pm on July 1st, experience a fun-filled day at the Bat Zone, and hang out with more than 200 animals! For a $7 admission (free under 2 years) we will give you a behind-the-scenes tour with a trained education specialist to experience bats in flight, flying squirrels, owls, a two-toed sloth and skunks! You will also have the opportunity to see the largest species of bat in the world and meet a colony of Vampire bats. To top it all off, Batman himself will be there to take part in all of the bat fun!
We hope to see you at our bat-tasctic grand opening!